Duckling AWE2 hours live broadcast successfully ended, netizens were enthusiasti
2019-03-14 00:00:00
March 14th
Duckling Group and Shandong People's Broadcasting Station
Medium Live Broadcast Successfully
According to staff statistics
The number of online viewers is approaching60 thousandpeople
AddTremolo, 51 Listeners, Today's Headlines, Lightning NewsAll kinds of platforms
The total number of viewers was nearly 1.3 million.
More than 130,000 people watched 51 live pages. The Lightning Live Page has nearly 60,000 viewers.
The live broadcast centers on three major themes. The host and chairman Li Yonggang have exchanged views on the development of ducklings, the highlights of the five major ducklings industries (washing technology industry, automotive mould and equipment industry, cold chain industry, consumer electronics industry and new energy industry), future industrial planning and internationalization strategy.
Three themes
New and Old Kinetic Energy Conversion, Combining with Industrial Highlights
Duckling state-owned enterprise responsibility, combined with 40 years of dedicated technology research and development, enhance strength.
Duckling's internationalization strategy, national aspiration and world famous brand
During the live broadcast, Zhao Fu, chief engineer and deputy general manager of Duckling Group, introduced the duckling washing industry to netizens, especially the first batch of A + certified household drum washing machines and coin-operated drum washing and drying machines. As the only R&D manufacturer producing 2 kg to 200 kg drum washing machine in China, we have more than 40 years of experience in deep-ploughing washing technology, and we have the determination and confidence to become stronger, bigger and better!
Li Guowei, director of independent brand market of new energy industry, introduced the concept of "solar energy + multi-energy complementarity" to netizens: the whole system is mainly solar energy, with air source heat pump as auxiliary heat source, while increasing solar photovoltaic power generation to meet the system's own electricity demand, so as to realize low energy consumption operation of the whole system to meet the needs of hot water, heating and refrigeration, which is true. Green energy in a positive sense.
Ma Qiuyang, an engineer of cold chain industry, tells you that the cold chain industry is the only enterprise in the industry that has obtained SEDEX certification. Our duckling display cabinet has entered many large supermarkets and convenience stores. Especially last year, more than 3200 Suning stores used our display cabinets. And our unique "wind curtain technology" is the industry leader, energy saving up to more than 20%.
The highlight of this exhibition is the slogan of "Intellectual Enjoyment+", which is a duckling smart home based on Internet terminals. Through this concept, we can connect washing machines, refrigerators, cigarette machines, cooking utensils and other household appliances in series. Han Keqiang, the marketing Minister of the household appliances company, pointed to a red wine storage cabinet displayed on the spot: "Like this red wine cabinet", red wine has very strict temperature and humidity requirements for storage, which we can easily control through the mobile terminal.
At the exhibition, we also exhibited kitchen appliances such as tobacco machines with super suction, new kitchen darlings with steamers - integrated stoves, broken wall cooking machines, electric ovens, rice cookers and so on. Li Qiang, an engineer of consumer electronics industry, was very proud: "Almost all kitchen appliances are produced by us, not unexpected."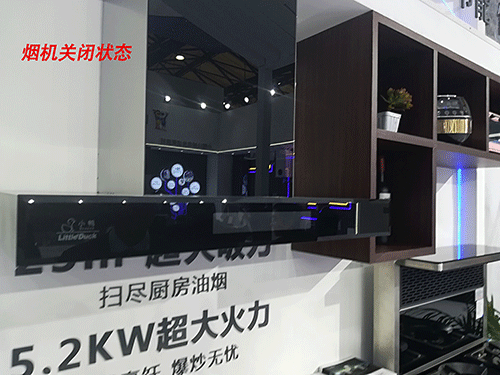 The number of live viewers continues to grow at a rate of more than 10 seconds, and the comments of netizens make Xiaobian unable to reply: many netizens say that the duckling washing machine has been in use for more than 30 years at home, and the quality is very good; some people say that there is an old washing machine for Ducklings at home, and another dryer; there are also comments to find that we want to buy washing machines, gas stoves, integrated stoves and other products; and more netizens are straight. Next, we need to change all the electrical appliances into duckling brand!...
Many, many of our loyal users, thank you very much. It is your support that makes us strong and strong. It is your love that makes us strive to become better. In the future, we will continue to refuel!
Wonderful tidbits