I am currently away from London for a week, which in all honesty is sheer bliss, minus the really annoying fact that my MacBook charger no longer works and therefore won't charge my now battery drained laptop. Consequently, I am writing this on my sister's PC, which I hate using - the colourings of my photos look weird and I cannot type fast on the keyboard without making a million typos. First world problems, I know. Anyway before I left London, I switched up some of the key contents of my make-up bag. I have a post coming soon on how I am switching up my products for Autumn, but this week I am still reaching for those products that make me glow, and are multipurpose and suitable for travelling. I am also using my new Fleur de Force make-up bag, which is not just aesthetically divine, but fits in a multitude of products - it's such a good size.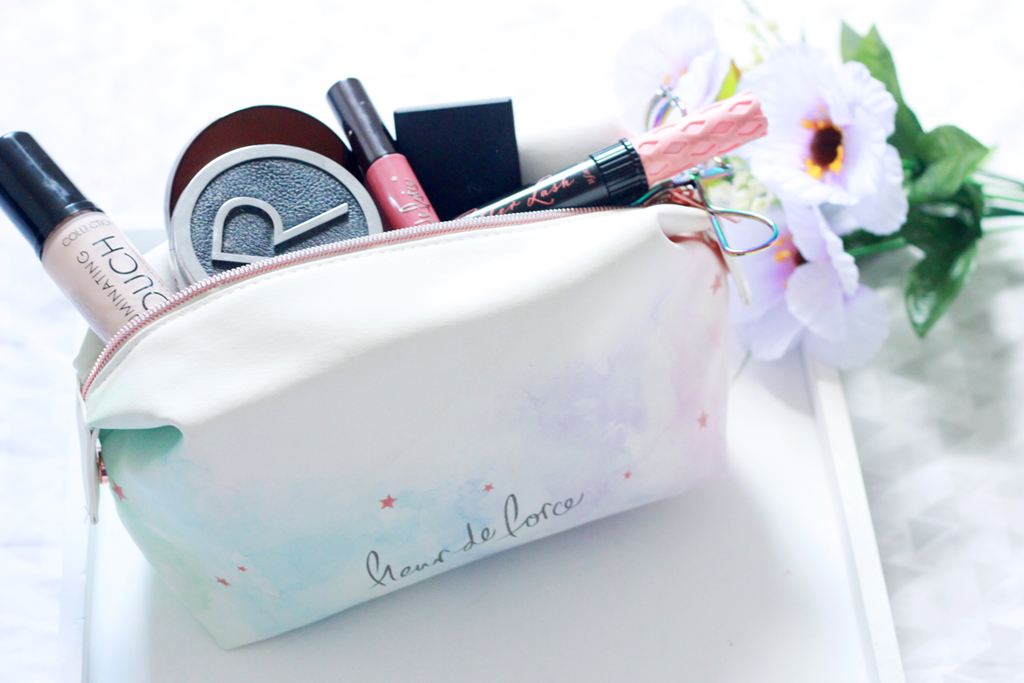 I wanted to bring a foundation with me that would be suitable for both day and night; one that would provide me with good coverage but not go patchy or cakey throughout the day. Therefore I opted for the recently launched
COLLECTION Illuminating Touch Foundation*
, which provides all these things. For powder, I have been reaching for the
BareMinerals Mineral Veil*
, which I haven't used in a while and forgot how much I really liked it. It's a lightweight translucent powder that provides a sheer veil of powder that sets make-up without attaching to dry patches or looking patchy. I am usually extremely loyal to my Soap & Glory Solar Powder, but recently I have been reaching for the
Make Up For Ever Pro-Bronze Fusion*
, which is a very subtle bronzer that I feel has a cooler tone in comparison to my S&G one. What I do love about the cooler weather setting in is opting for a darker, plum-hued blush to really emphasise the 'I've been stood out in the cold but still look suitably blushed' look. The
Sleek Blush in Pomegranate
is an extremely pigmented berry pink tone that blends well for a velvety finish - this can also be used as an eyeshadow, which is fab. Although I am trying to transition my make-up look to be more seasonal, I cannot leave behind a highlighting product, ever. The
Rodial Instaglam Illuminating Powder*
is my 'go to', and I have even hit pan so am trying to not be too heavy handed with it in fear of it running out.
For eyes, I have gravitated back to my trusty Benefit RollerLash*, as it is the only mascara I seem to have at the moment that actually lifts and defines, as opposed to the thick, voluminous lashes that I have been flaunting in recent weeks. For lips, I have not put down Fleur de Force's Written in The Stars Lip Gloss* since I got it, and it is the perfect shade for everyday, and the ideal top coat for a more prominent lipstick/liner in the evening. I also want to mention how pretty (and rather good) these Primark Eyelash Curlers are, despite the fact that I only bought them because of their pretty reflecting colours.