Oh ey look at me getting my monthly favourites up before the month ends, that's a first isn't it? I just wanted to showcase my new fluffy *
every blogger has it
* rug. It's a great backdrop for photography, but it won't be long until it's covered in lipstick, nail polish and eyeliner shavings, that's for sure. But yes, new rug. That's the extent of the excitement in my life right now; apart from the fact that as of next week I have annual leave from work. A whole eight days off back in Salisbury, whoop! Anyway, back to the purpose of this post: monthly beauty favourites. September was a poor month for me (
well what's new? but even more so this month for some reason
) so I couldn't really feed the beauty haulin' urge. Despite that, there are a few things that have been getting me through the month that I have fallen in love with. They are all very purposeful, which is never a bad thing...
001
:
Soap Co. White Tea Hand Wash (£8)*
- Now, I do have the complimenting Hand Lotion to this little beauty, but this has probably seen the most pumps in the last month. Soap Co. is a new brand and social enterprise founded by charity CLARITY, which employs blind people, along with those with other disabilities and disadvantages. It's an amazing brand with a great ethos, and the products are made with natural extracts, added vitamins and are colour and paraben free. The products are also packaged in environmentally friendly materials, including bottles that are partly made from recycled milk bottles - impressive huh? I now love washing my hands even more as the white tea is a subtle refreshing scent, and the formula not at all drying.
002
:
fresh Sugar Lip Treatment SPF 15 in Tulip (£18)*
- This not only smells amazeballs (quite literally of blackcurrant), but provides a sheer hot pink wash of colour that is both moisturising and protecting. I have reached for this countable times in the last month as the weather has gotten colder and my lips more prone to dryness. It must also be noted that the packaging is so beautiful I have to display it on my vanity at all times.
003
:
Micro Cell Nail Repair (sample size)
- My nails are naturally very flimsy and constantly just peel off. After I bleached my bathroom recently, they were left in tatters, therefore I needed something that would bring them back to life. The Micro Cell Nail Repair (I have a super tiny one, isn't it the cutest?) has been specially developed for soft and brittle nails, and is based on the recovery of protein molecules. I applied this instantly after my nails were bleach bathed and within an hour the nail felt noticeably stronger and more resistant to tearing and splintering. You keep this on for two days before removing, and then repeat.
004
:
Fleur de Force Lip Gloss in 'Written in the Stars' (£6.99)*
- I haven't stopped wearing this since I got it. I think Fleur's make-up line is the first from the YouTube community that I have actually been drawn to. It helps that she is super lovely and down to earth, but the quality of the products are notably impressive. The lip glosses are not at all sticky, and provide a lovely moisturising shine to the lips, as well as a lovely opaque colour - I was genuinely impressed with how pigmented they were considering how lightweight and comfortable the formula felt on the lips. The 'Written in the Stars' shade is probably my favourite out of all as it's the most wearable; the most perfect rosey mauve hue.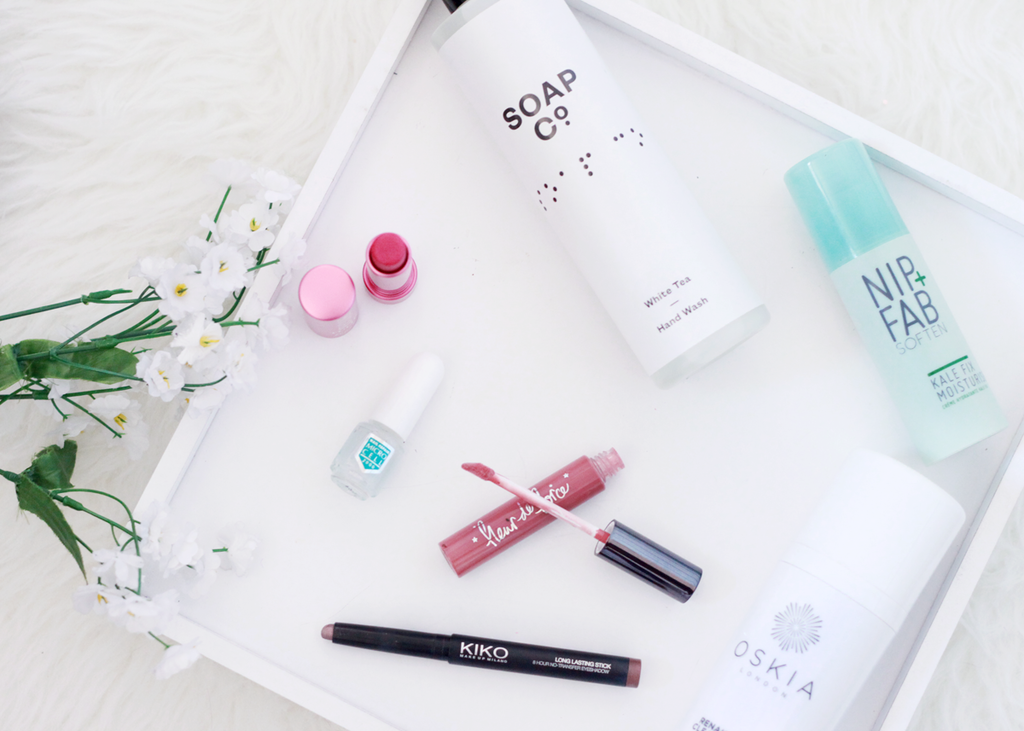 005
:
KIKO Milano Long Lasting Shadow Stick in Rosy Brown (£6.90)
- Ok, so I have been pretty lazy this month; there have been too many mornings where I have over slept and not bothered much with my make-up. When I have been in a rush, or have - at last minute - had to attend an event, the KIKO Shadow Stick has been a god send. This is comparable to the formula of Maybelline Color Tattoos; creamy, easily blended and long-lasting, while providing such a gorgeous ash brown hue with hints of rose in certain lights - the perfect day-to-night product!
006
:
NIP+FAB Kale Fix Moisturiser (£19.95)*
- Now I am not going to go into too much detail about this one, as I have written a full account on the range over on Ree's blog
here
, but what I will say is that kale isn't just for your tummies ladies! The moisturiser is my favourite out of the trio and it really has made a visible different to my skin: it's smoother and firmer, with redness reduced. The smell is something I had to get used to, but my skin definitely smells all kinds of fresh and green post-use.
007
:
OSKIA Renaissance Cleansing Gel (£28)*
- Again, one that I have dedicated a whole blog post to
below
(always a good sign of a great product), but this has literally contributed great things to the condition of my skin this month. I find it such a dream to use, whereby it melts away all trace of my make-up and leaves my skin feeling lovely and soft with a refreshing scent that does all kinds of wonderful things for my senses.