For a while now, the scent of Fresh Beauty has dispersed into the air of my bedroom due to an ornately packaged gift box sat on my desk. It was almost too pretty to open, and I must admit, it took me a while to find peace in opening it all up to capture on camera. This being said, I came to the conclusion that it was simply too pretty not to share with you all. Fresh Beauty is a brand fairly new to me; I have heard its name circling around for a little while and decided it was time for me to delve in and learn more. I even work in Marylebone, which is where the Fresh store is located, so there was no hesitancy about it. The brand has recently launched its Gift Bar, whereby customers can curate a collection of personalised Fresh favourites which are then elevated with a complimentary artisanal gift wrap. I favoured the opportunity of being able to curate my very own, tailor-made box of Fresh goodies to try, and I couldn't be more happy with what was prescribed. My
Fresh Beauty Gift Box*
can be seen below...
I was first asked to state my birthday so that I could receive a
Fresh Zodiac Oval Soap (£12)
, which I think is such a lovely idea, especially for a gift. Unfortunately, the brand had run out of my zodiac sign (Aries), but informed me that the Sagittarius soap was in fact the same scent as the Aries one, so technically all I missed out on was the correct packaging. Aries is one of the best signs, so I suppose I can handle the fact that it is overly popular. The product is a limited-edition vegetable-based soap infused with the delectable scent of mangosteen - it smells absolutely heavenly, and a great addition to my bathroom sink.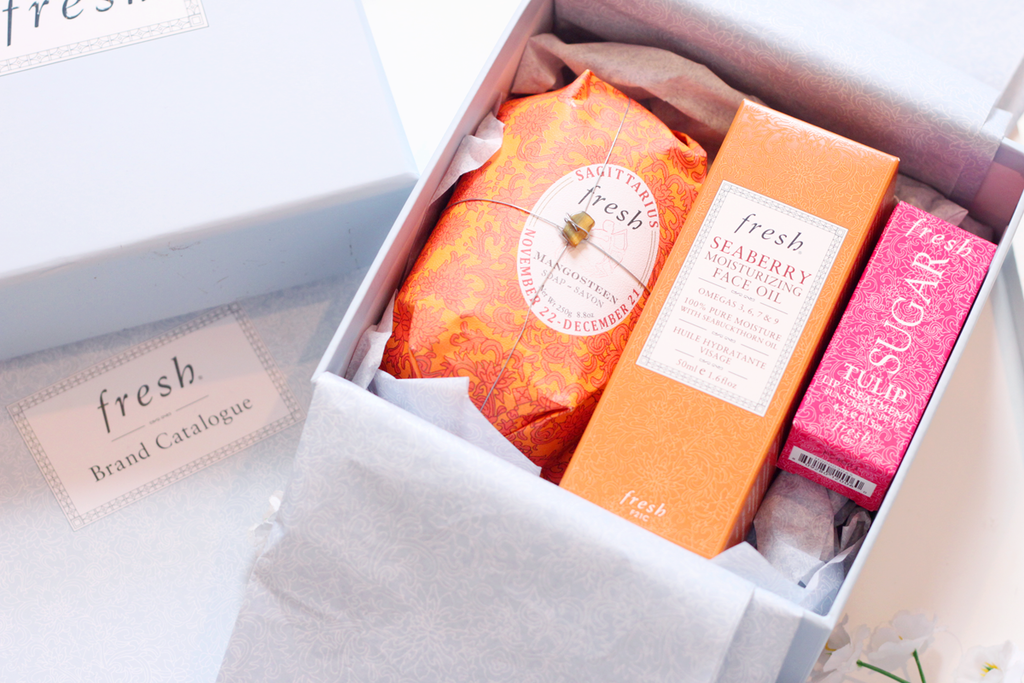 Secondly, I provided my skin type and current skin concerns, which ultimately always turns out to be dry skin with a lacklustre appearance. The lovely Fresh expert introduced me to the
Fresh Seaberry Moisturising Face Oil (£40)
, which offers a precious blend of pure oils packed with nourishing omegas, and a rather lightweight formula that absorbs into the skin quickly, leaving it feeling supple and hydrated. Oils are a must for me now, especially during my night time routine.
My gift box also included the infamous
Fresh Tinted Lip Treatment (£18)
, which was the product I recognised the brand for - I had seen them across so many Instagram photos and remember thinking how pretty they were each time. I received the shade Sugar Tulip, a rather divine hot pink hue. The nourishing treatment moisturises, protects and smooths the lips, all while adding a subtly tinted pink sheen.
I am dying to try the Sugar Lemon line from Fresh (
and the candles, oh how amazing do they smell?
), do you have any other recommendations?