It's no surprise to anybody that I am an obsessor of lipstick, the more matt the better IMO. For those of us failing at collecting enough MAC lipsticks to fill our acrylic storage, let me just say, GOSH is a brand that provides the silver lining for poor lipstick obsessives. The recently introduced
GOSH Velvet Touch Lipstick - Matt (£6.99)*
is the latest addition to the Velvet Touch line, which I already have and love profusely.
The new creamy texture delivers long-lasting results with intense, pure matt colour pay-off, which is always something I look for in a lipstick: something that lasts, but won't make my lips dry and crusty. No one rocks a crumby lip now, do they? The lipsticks are enriched with natural waxes and hyaluronic acid to moisturise, hydrate, smooth and soothe lips, and are lightly scented with a vanilla fragrance - I even smell a hint of white chocolate, but that may just be me. Either way, rather delectable.
Now, I must apologise for my shoddy photography in this post. I tried to get all creative, but in doing so I mixed up the order. They aren't in number order at all *hits head on the table in despair*. The collection comprises eight shades, from reds and pinks to plums and nudes: Rose, Plum (very reminiscent of
MAC Rebel
), Raspberry, Coral, Classic Red, Cherry, Baby and Antique (
warmer MAC Velvet Teddy?
). All Swatched below in that order. Baby reminds me of my teenage years, whereby concealer on the lips was a legit thing, and sealing it with cheap clear lipgloss evidently made the whole process so much better. So no, I won't be wearing Baby anytime soon. I do however absolutely love Antique, which suits my skin tone perfectly, along with the pinky brown shade Rose. For the evening, Classic Red, Raspberry and Coral have been a saviour for creating a bright, bold lip; while Plum I can see myself reaching for as Autumn/Winter dawns.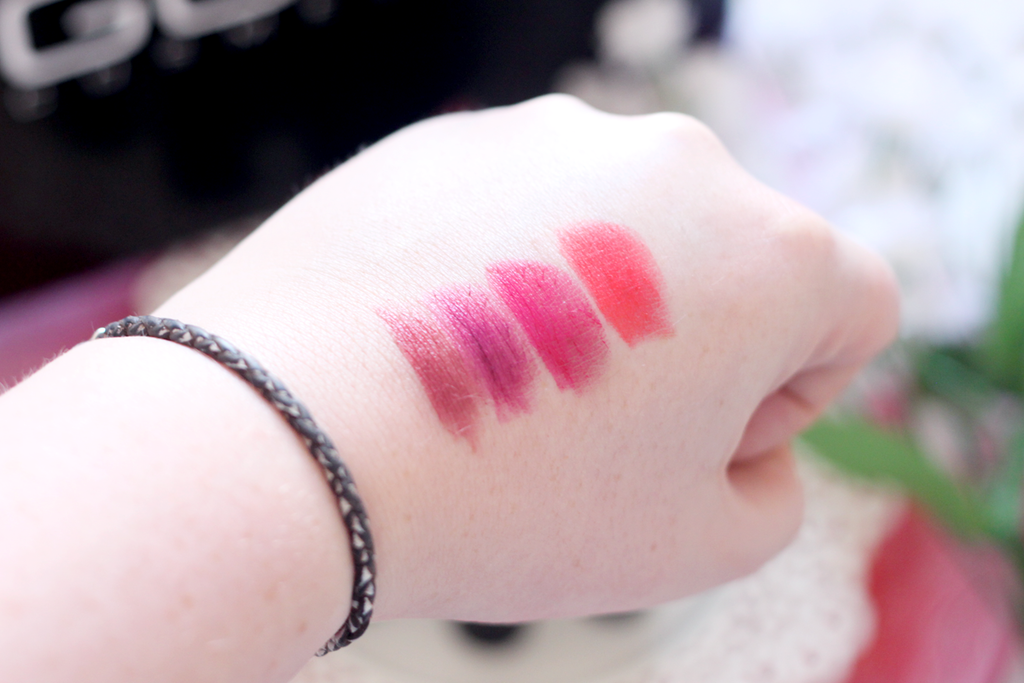 I would definitely recommend these lipsticks as a drugstore alternative to the higher end brands as they last for a good length of time, don't bleed and don't leave lips looking crusty. Some lighter shades take more building than others (I only did one layer in the swatches) but other than that, I'd say, get to
Superdrug
and get swatching! What's your initial favourite?