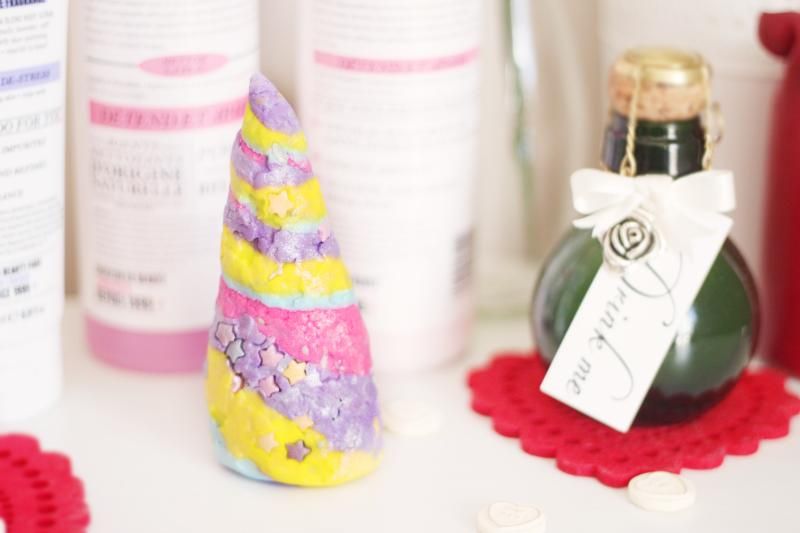 So, Happy Valentine's Day everybody, or as I like to say: Happy Saturday. Just a normal day bombarded with marketing ploys to make us singletons feel like utter bollocks really, isn't it? Anyway, despite all of that, I have decided to make it a pamper day, since the only Valentine's gift I received was my period. Thanks Mother Nature.
Despite my ever growing LUSH stash, I decided that the
LUSH Unicorn Horn
, inevitably, had to be purchased. Believe me when I say I tried to resist, because I did, but the pretty colours swirled into a horn of greatness got the better of me. I am very excited to have a magical bath tonight, I must say.
NIP+FAB*
were kind enough to send me a Valentine's Day gift in the shape of these super relaxing products from their De-Stress and Yoga Blends, along with these rather sweet heart-shaped lollies. The perfect accompaniment I would say, wouldn't you?
Obviously, I am going to paint my nails pink, give myself a hand massage with the
Balance Me Rose Otto Hand Cream*
(
so that they smell like roses
) and provide my lips with a
MAC Girl About Town
pout, just so I can feel empowered when I walk to the local supermarket to purchase a basket load of chocolate, popcorn, and any other junk food that takes my fancy, for my night in...alone. I am sure I am not the only one who is pretending to not care, but is going to embark on a full 'self-pity party' anyway. Have a great day all!